Intuitions, Naço, Marcelo Joulia — Blue cover, French Version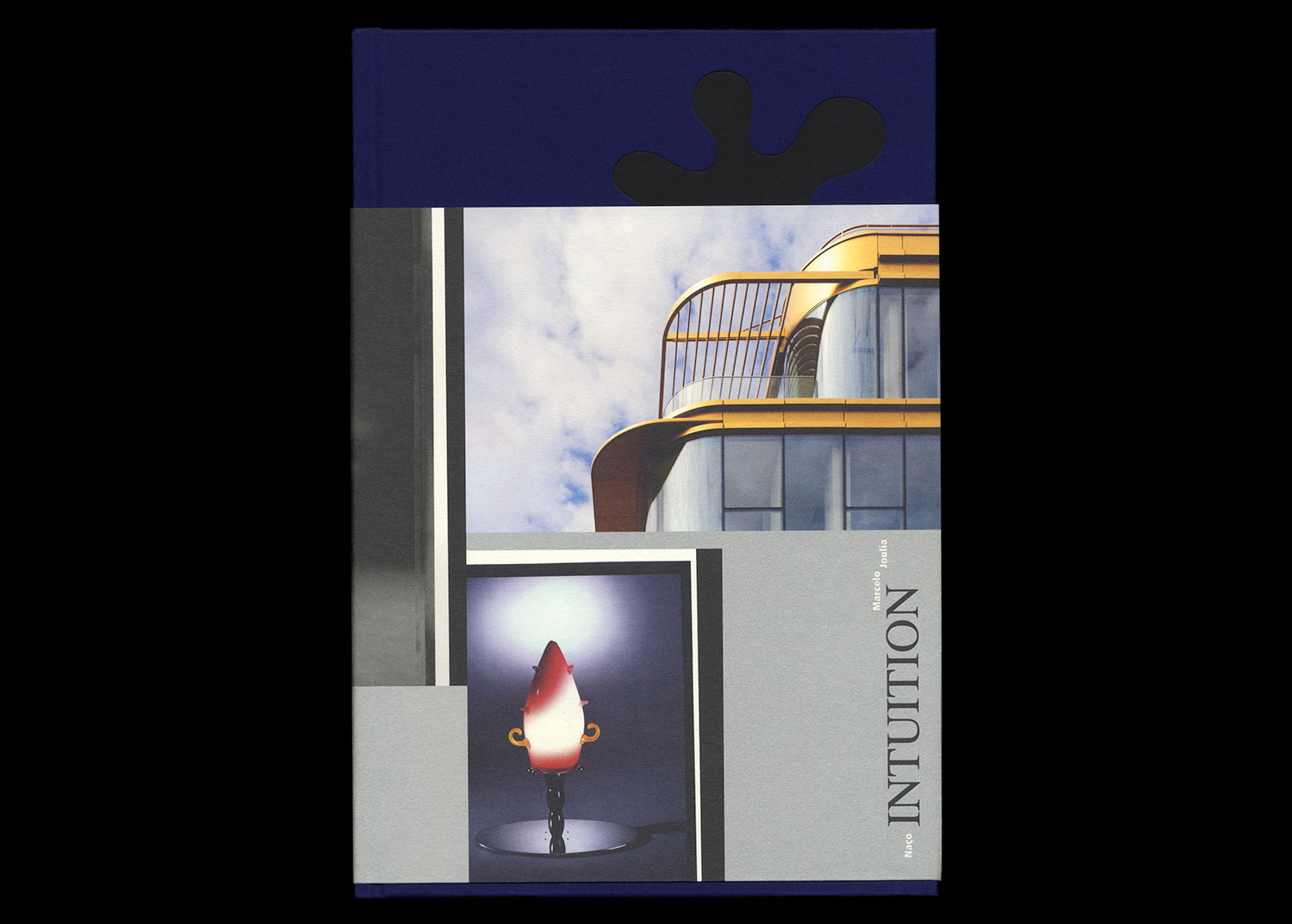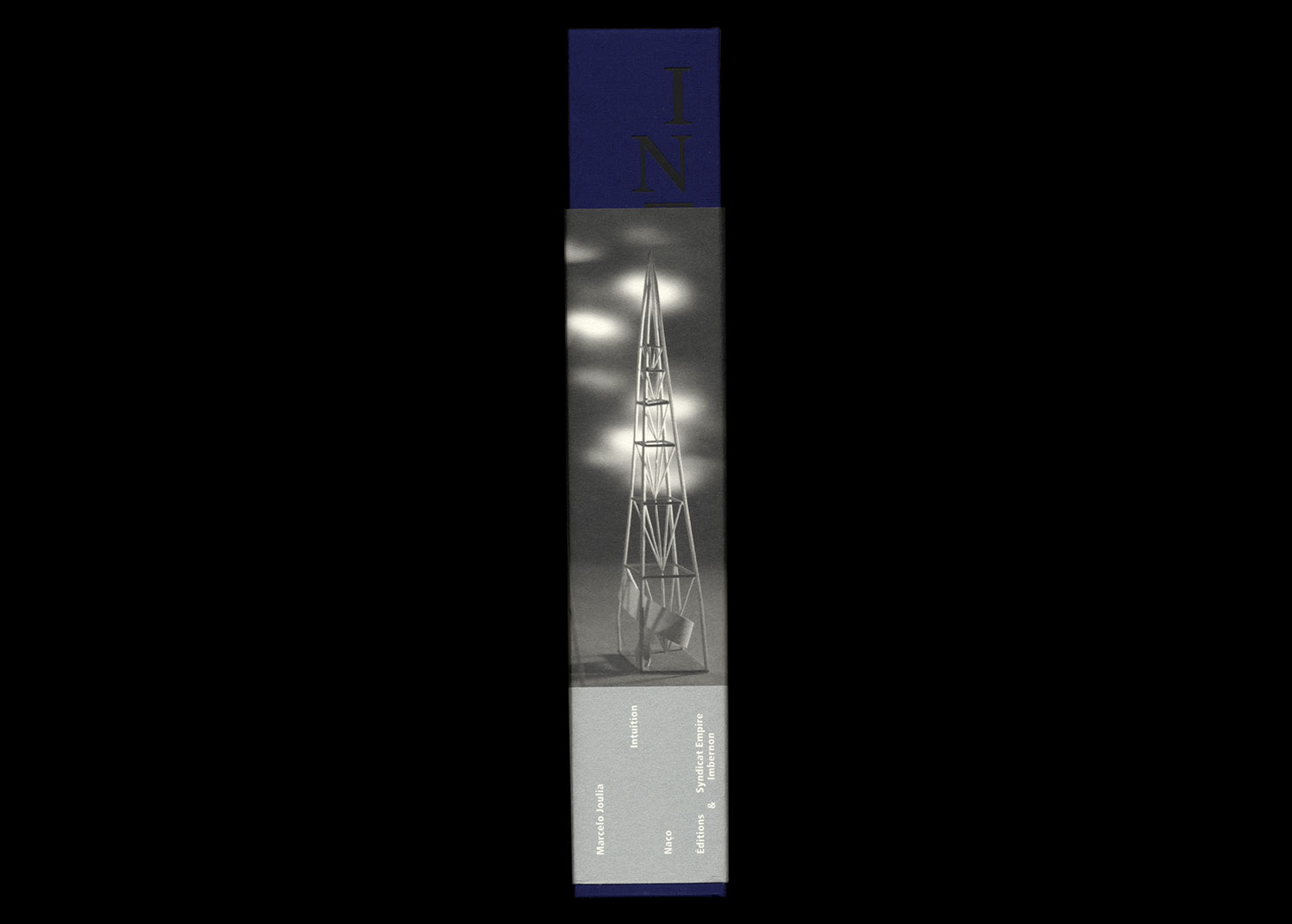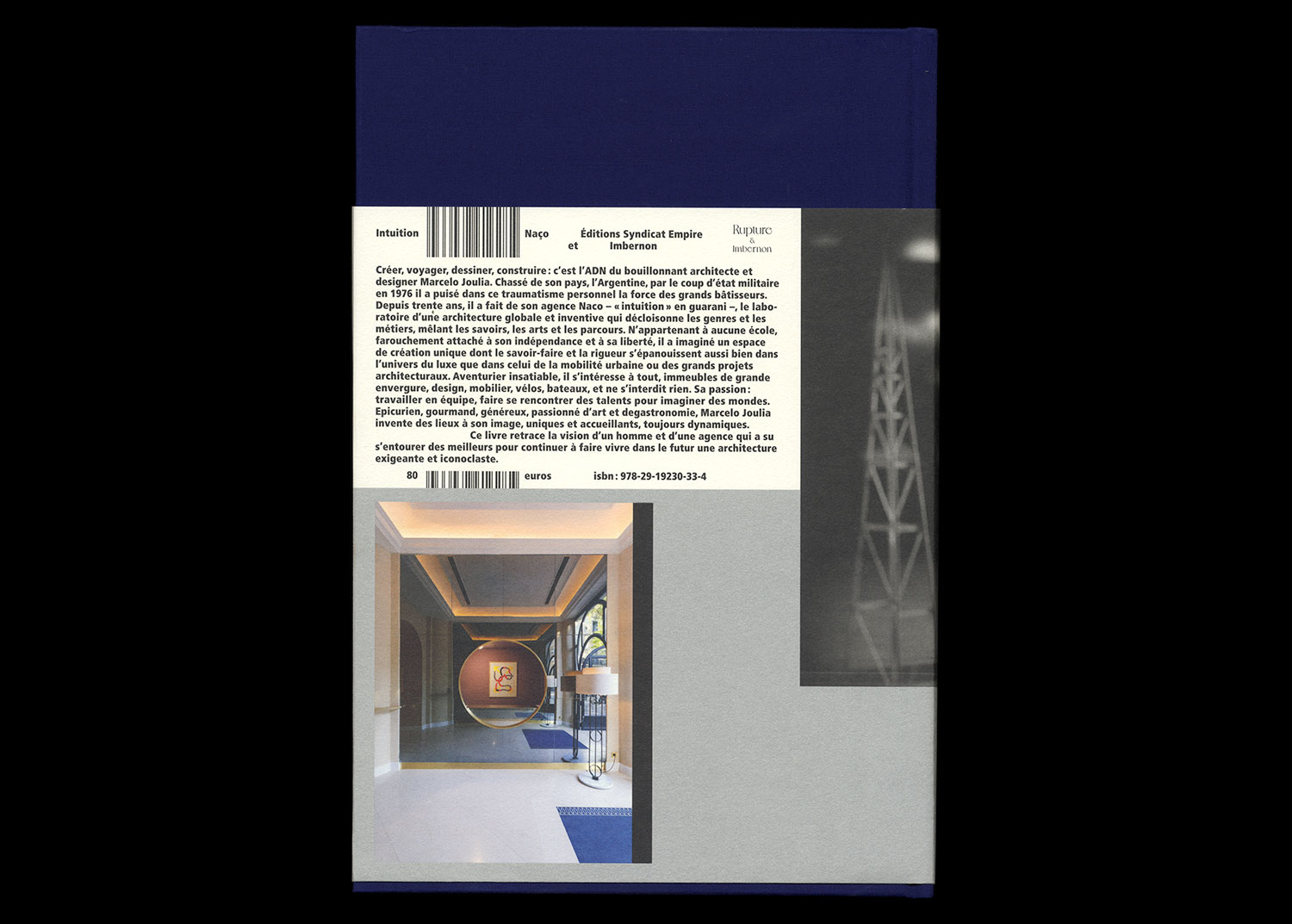 Related products
Paris la consciencieuse : Paris la guideuse du monde, by Frédéric Bruly Bouabré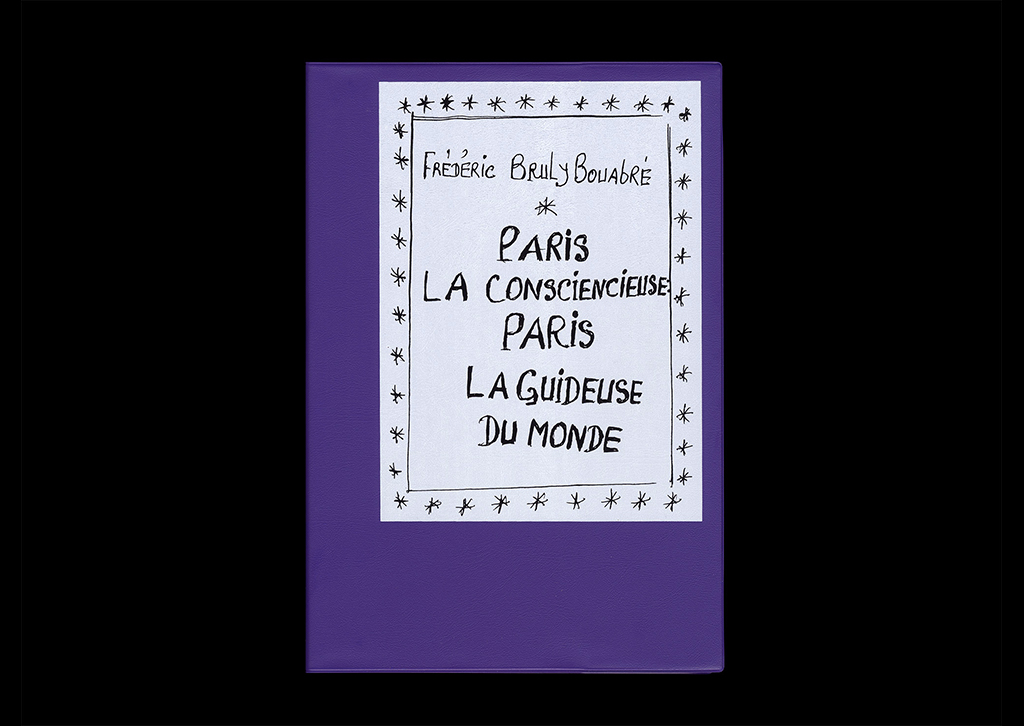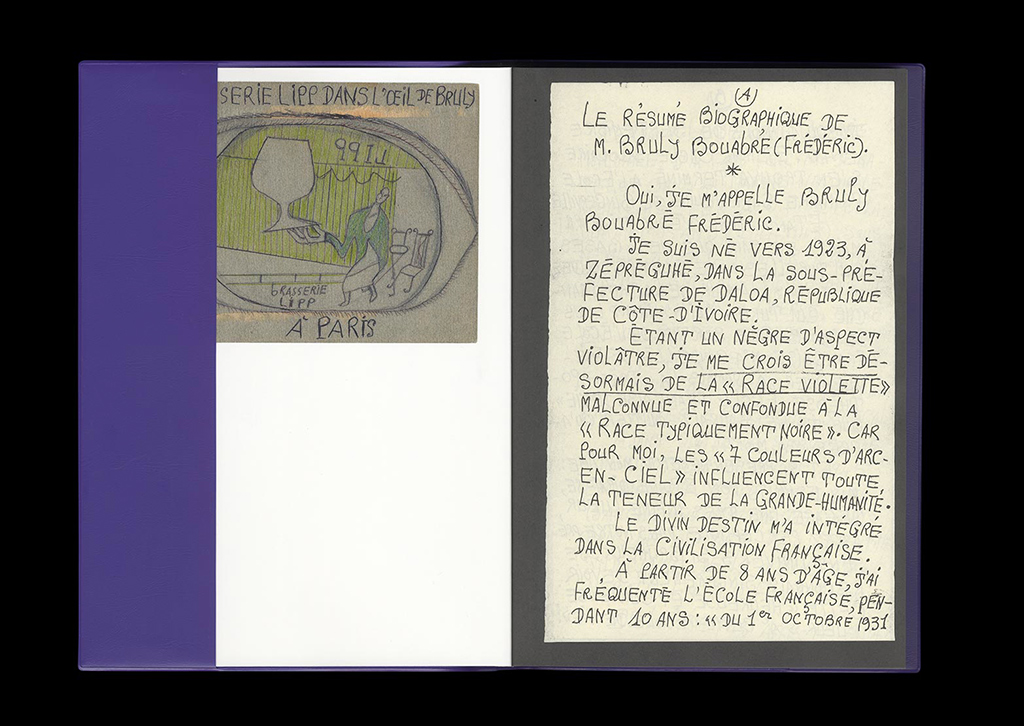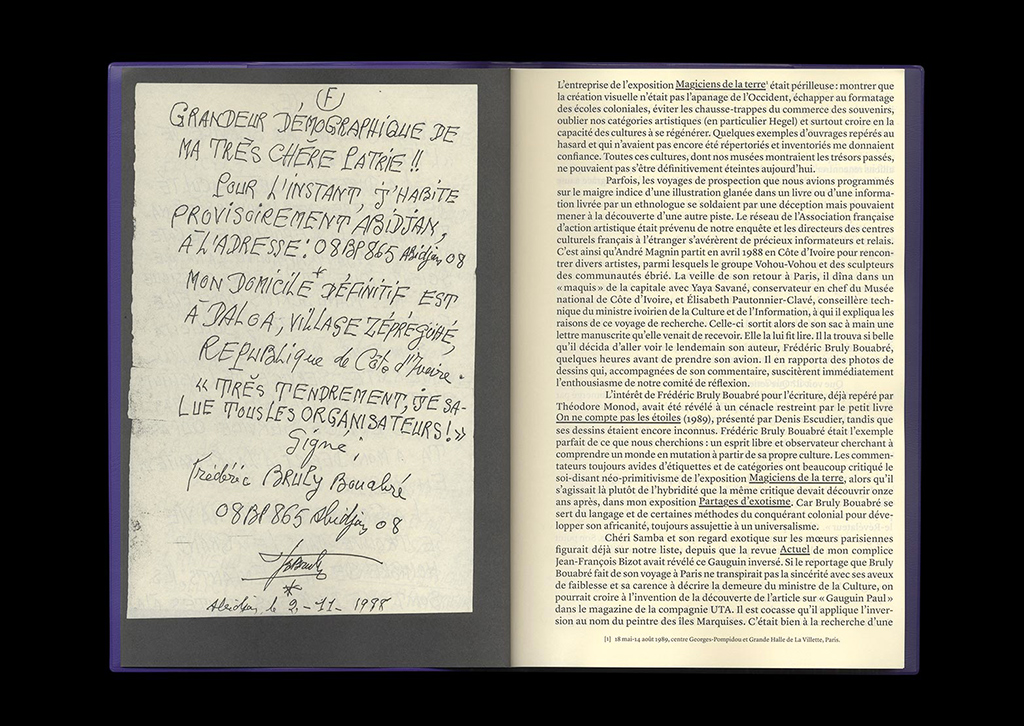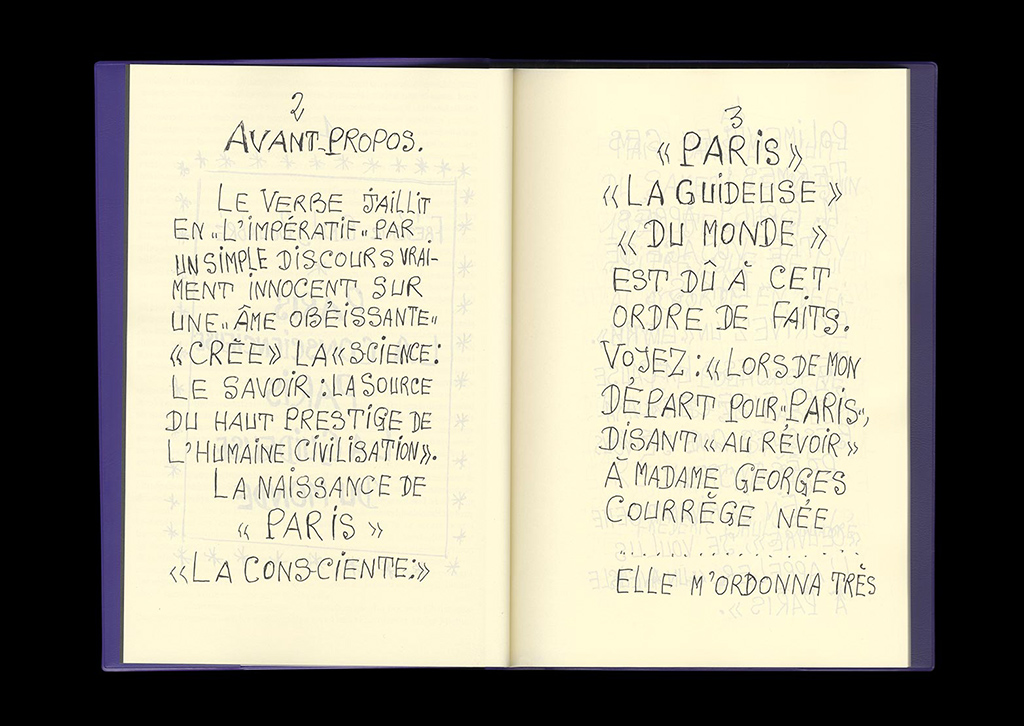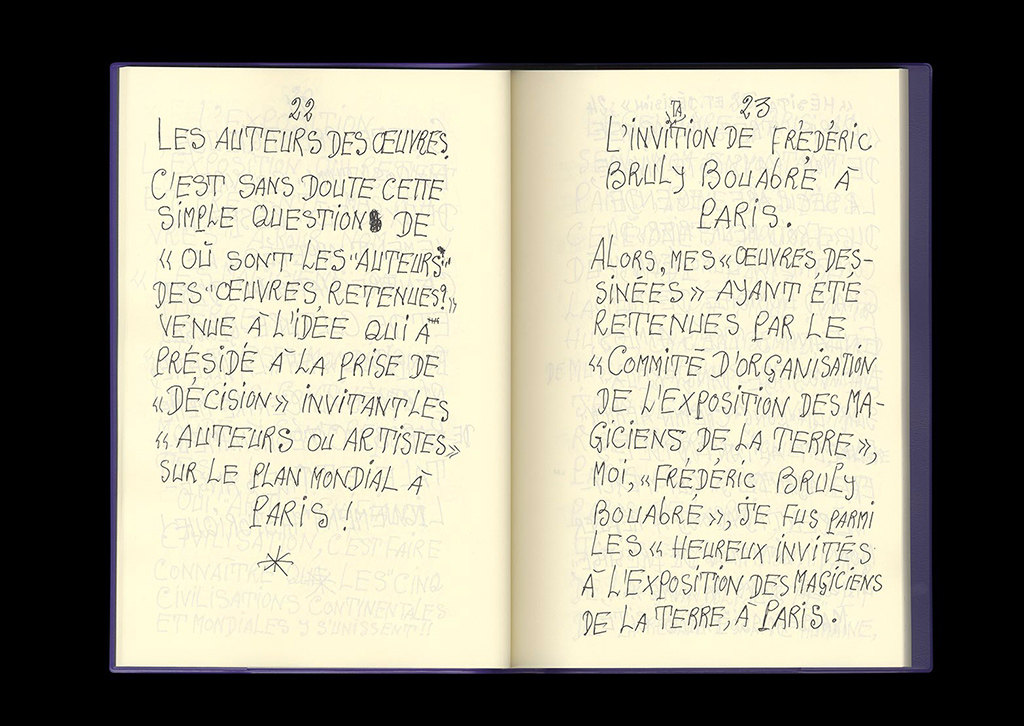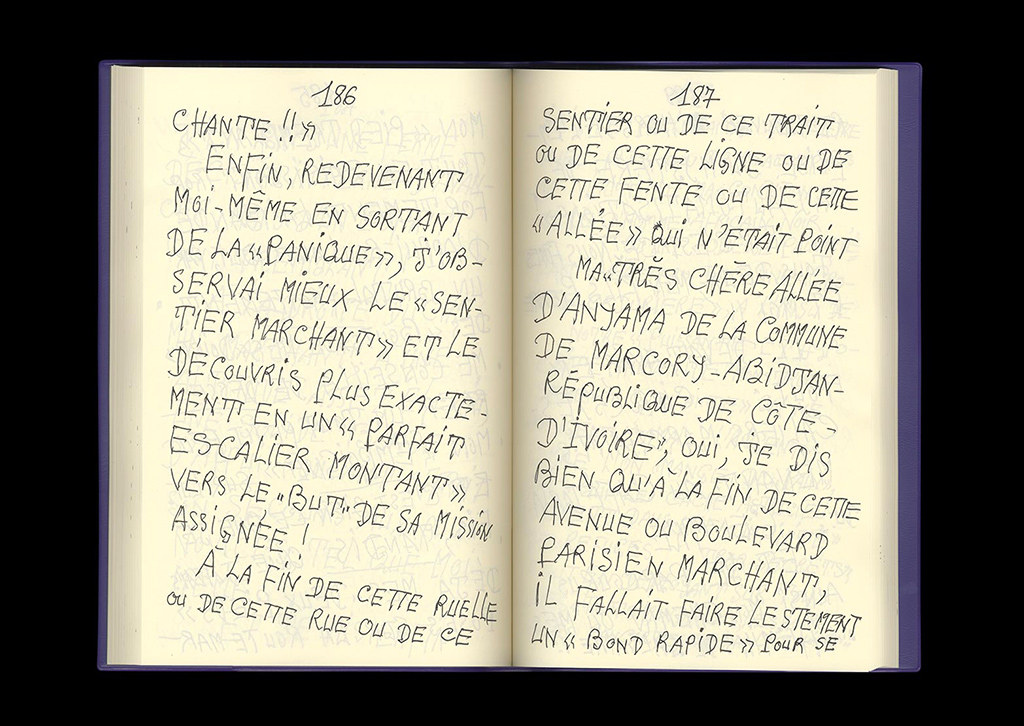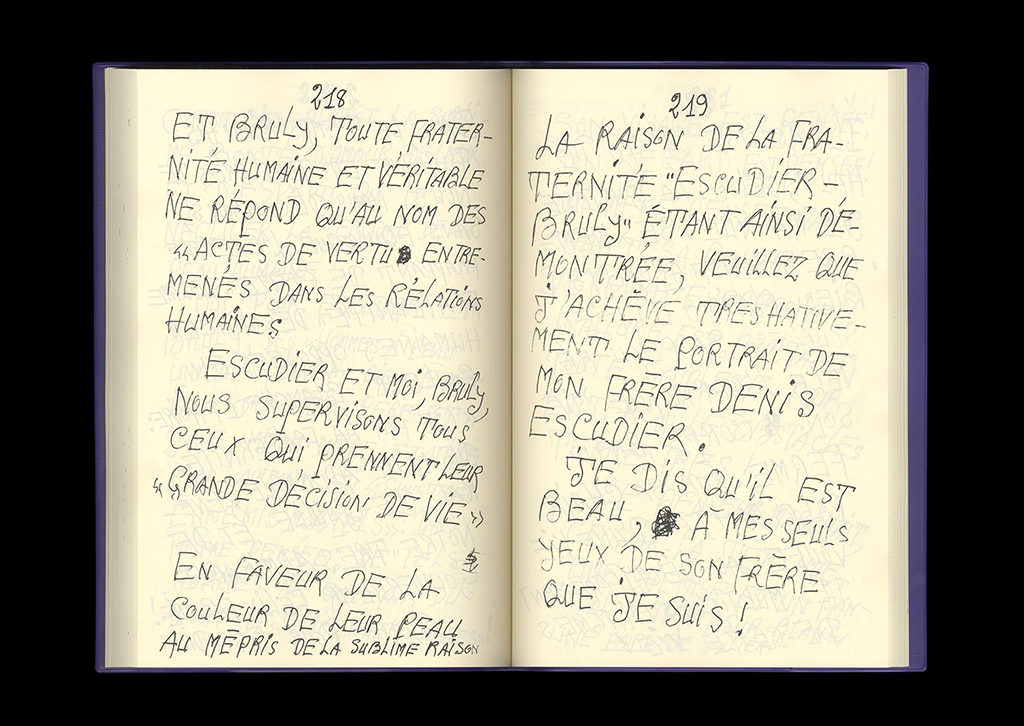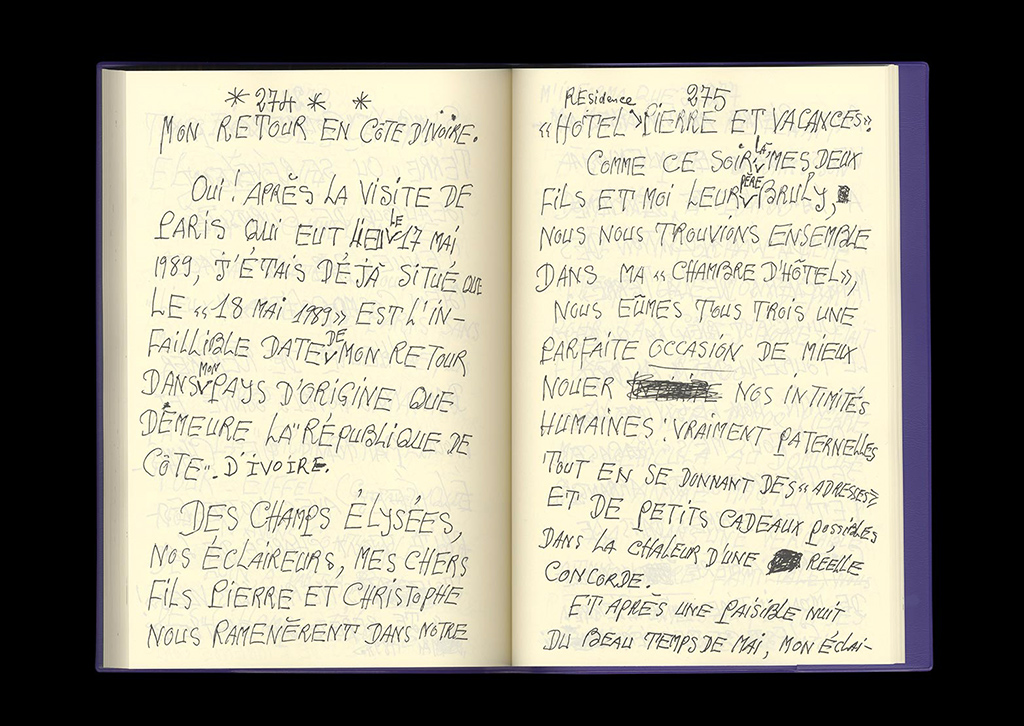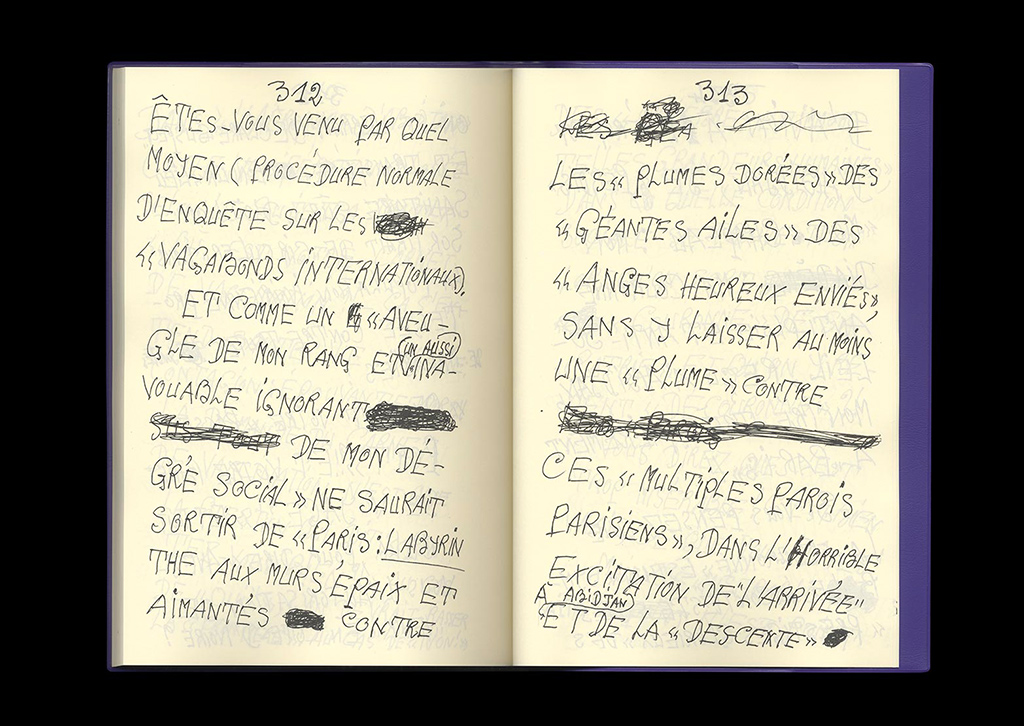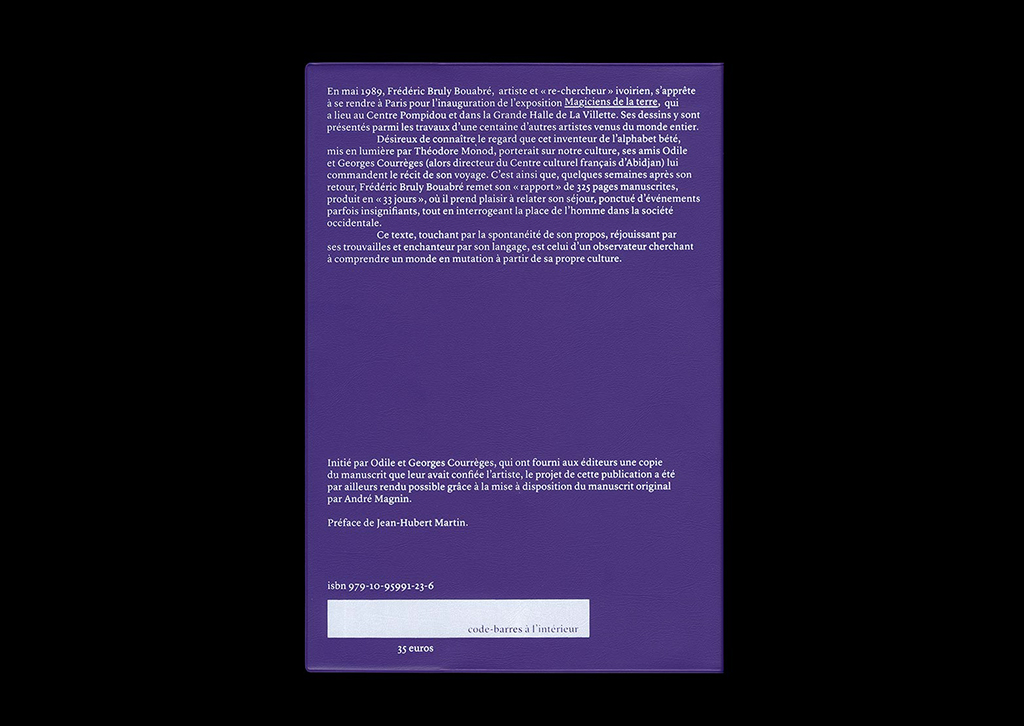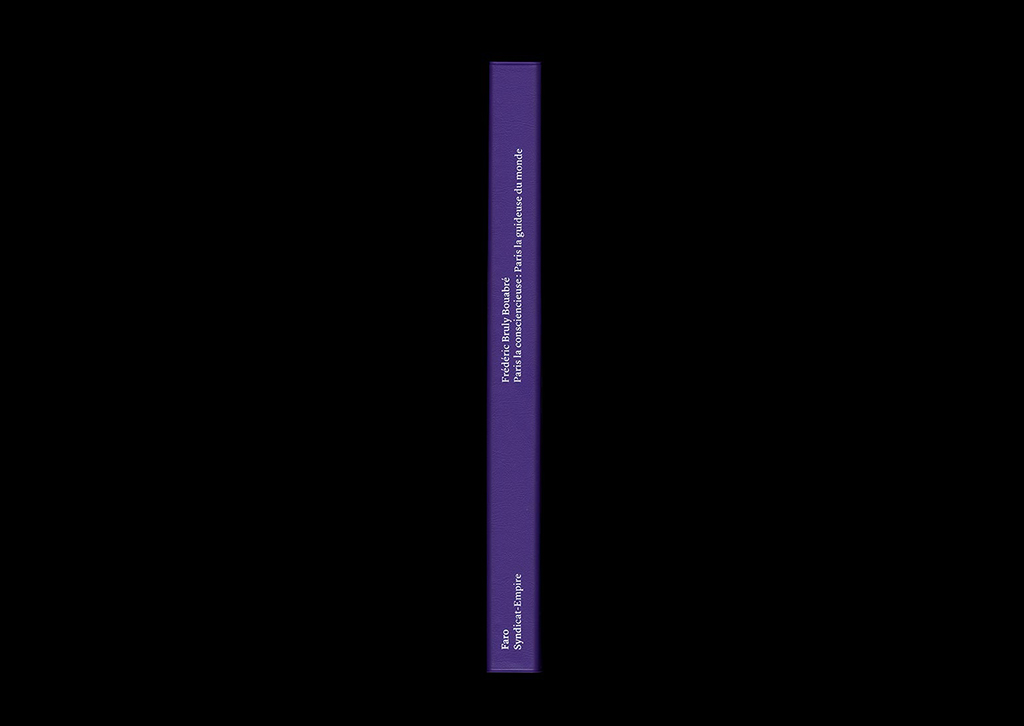 éditions Empire & Faro
ISBN : 979-10-95991-23-6
French
352 pages
210 × 310 mm
Copybook cover
Design: Syndicat
35 €
November 2020
éditions Empire & Faro
ISBN : 979-10-95991-23-6
French
352 pages
210 × 310 mm
Copybook cover
Design: Syndicat
35 €
November 2020
Frédéric Bruly Bouabré (1923-2014) is an Ivorian artist, poet, "re-searcher", creator and inventor of the Bété syllabary. In 1989, he was thrust to the front of the international artistic scene during the Magiciens de la terre exhibition (May 18 – August 14, 1989, Centre Georges Pompidou, Grande Halle de La Villette, Paris). Introduced alongside a hundred other artists from all over the world, he would subsequently become world famous for his drawings on maps enhanced with colored pencil.
But in May of that year, Bruly Bouabré still cherished quite a different dream: that of becoming a writer. As he was getting ready to fly to Paris, leaving African soil for the first time, the poet was commissioned by his friends Odile and Georges Courrèges (then director of the French Cultural Center of Abidjan) to write the story of his trip. This is how, a few weeks after his return, Frédéric Bruly Bouabré would submit his "report" of 325 handwritten pages produced in "33 days", in which he gleefully recounts his journey – at times punctuated by insignificant events  – while questioning the place of Man in Western society.
Until now, this tale of "a blind man in Paris," as he first was to call it, had remained unpublished. The text – of pleasing findings and enchanting language – is that of an observer seeking to understand a changing world, with his own culture as a starting point. Imbued with such freedom and desire for identification and documentation, which characterize the work of this encyclopedic creator, the book is a very unique testimony to a milestone in the history of contemporary art.
Initiated by Odile and Georges Courrèges, who provided publishers with a copy of the manuscript entrusted to them by the artist, the project for this publication was also made possible thanks to André Magnin, who provided the original manuscript.
Foreword by Jean-Hubert Martin
Artists as Iconographers, Updated reprint, Garance Chabert & Aurélien Mole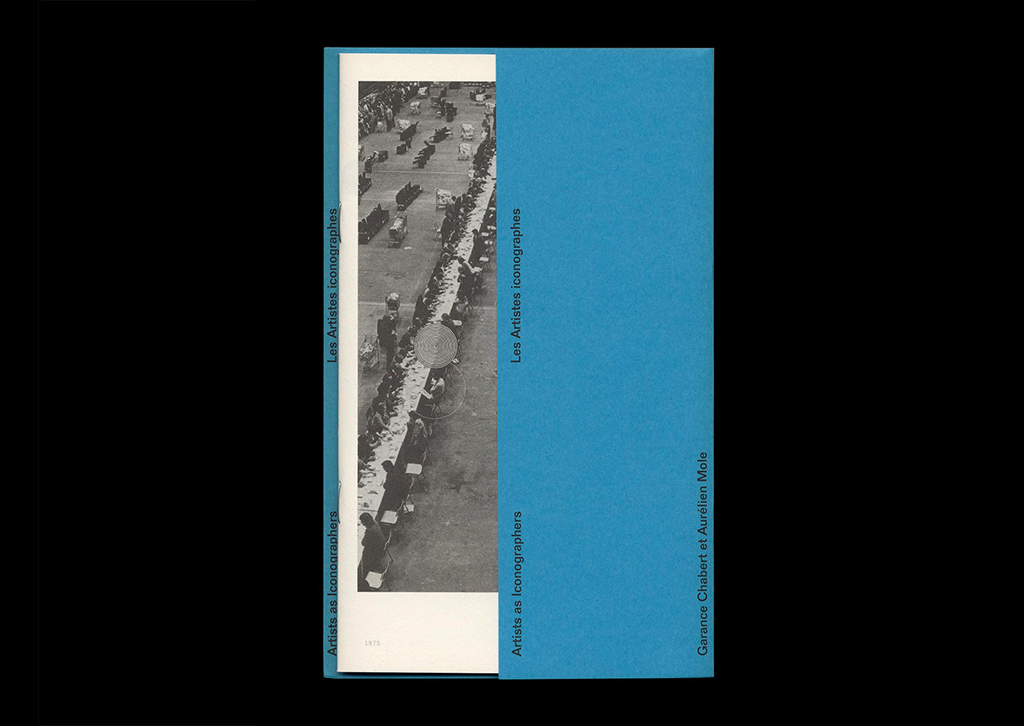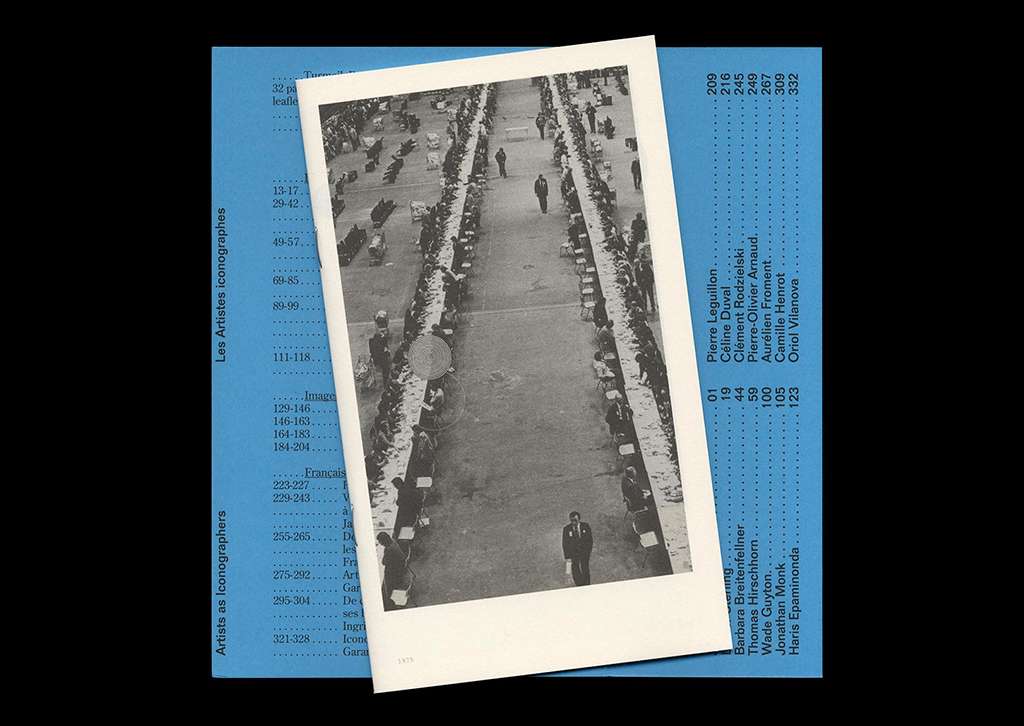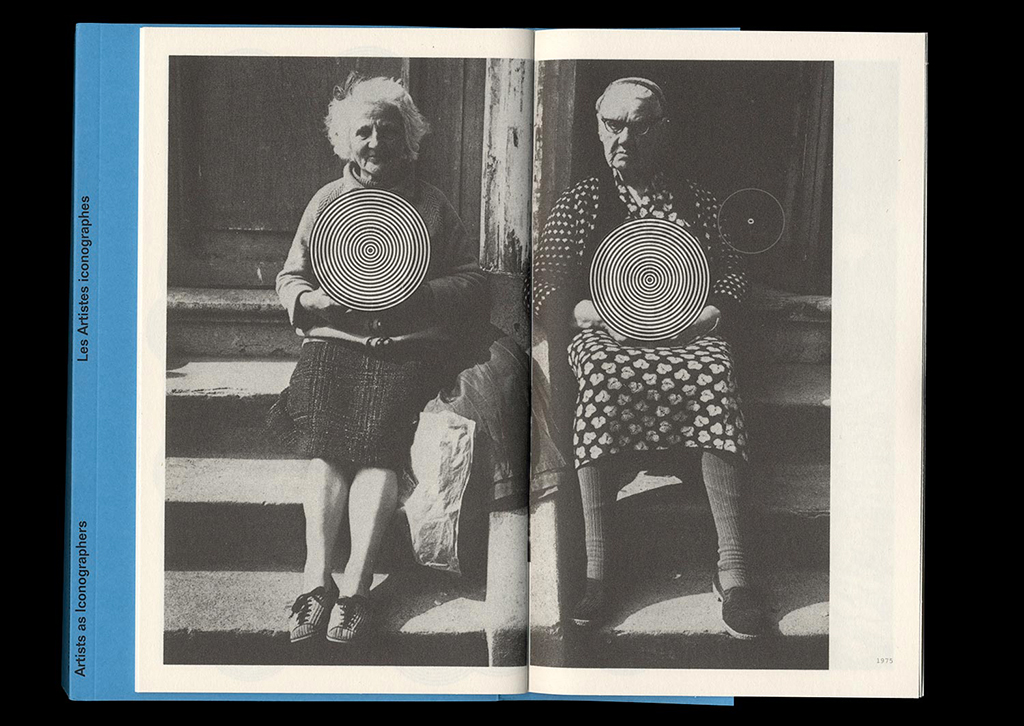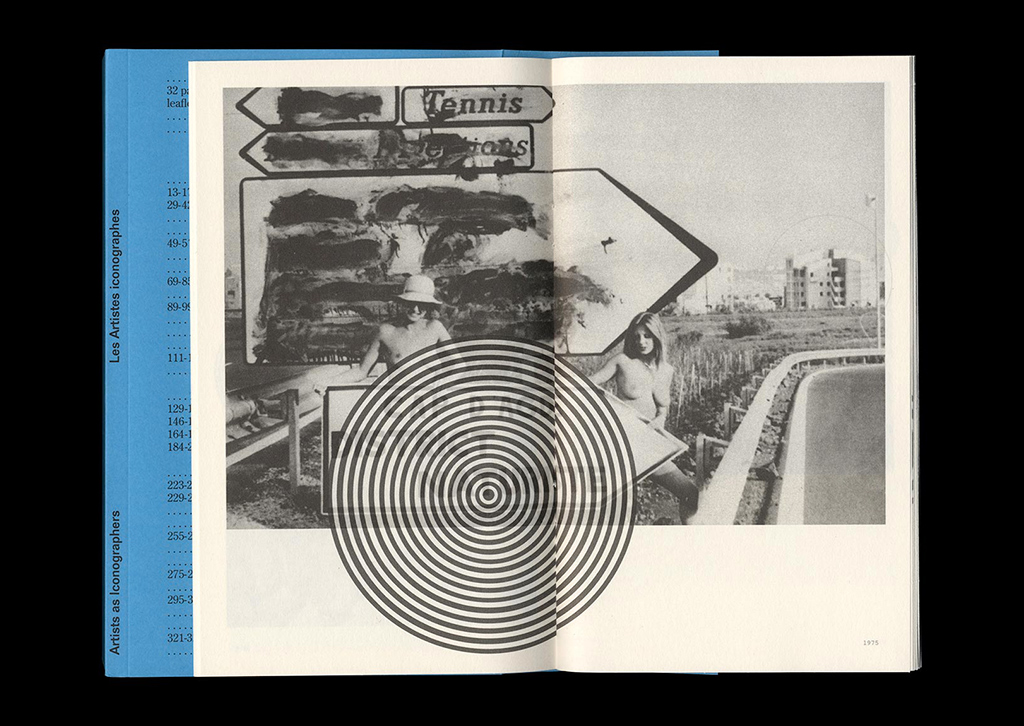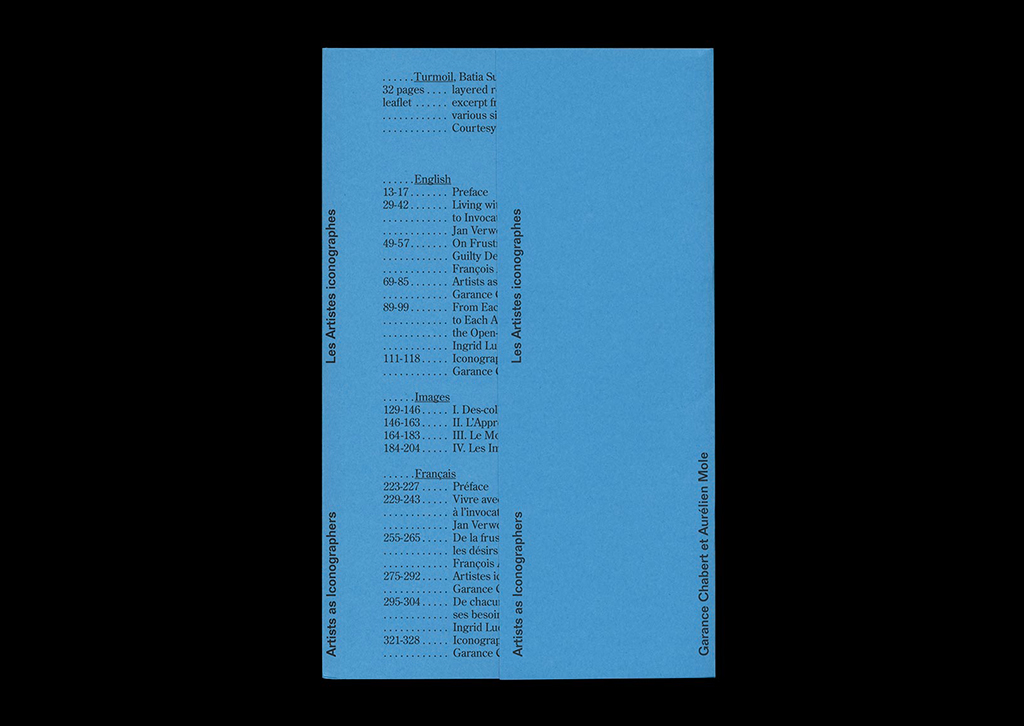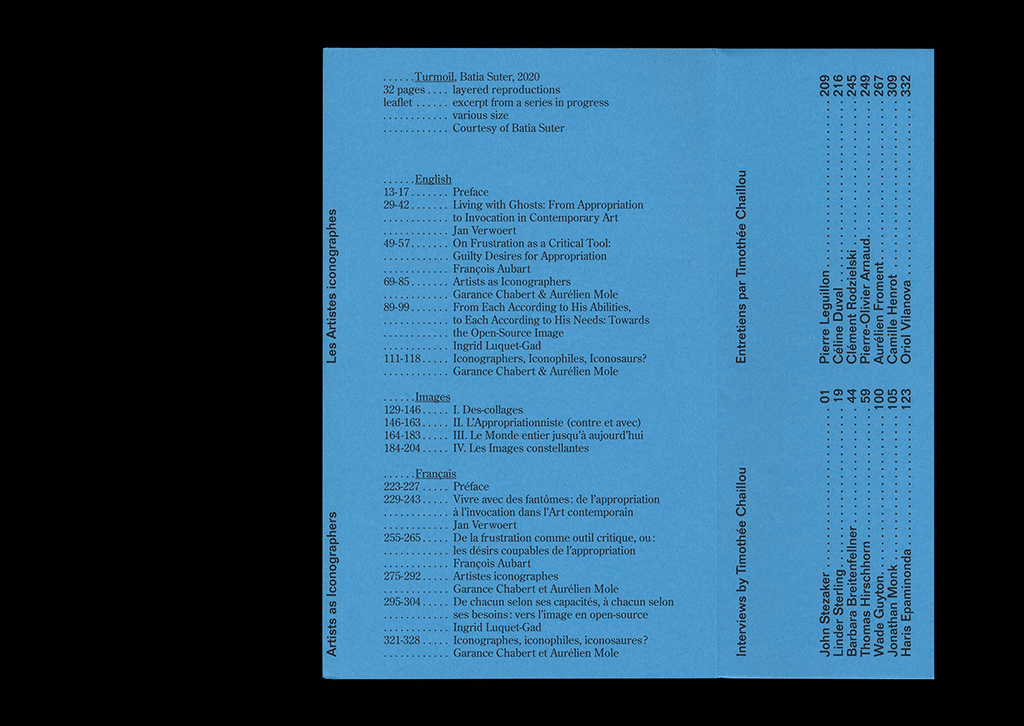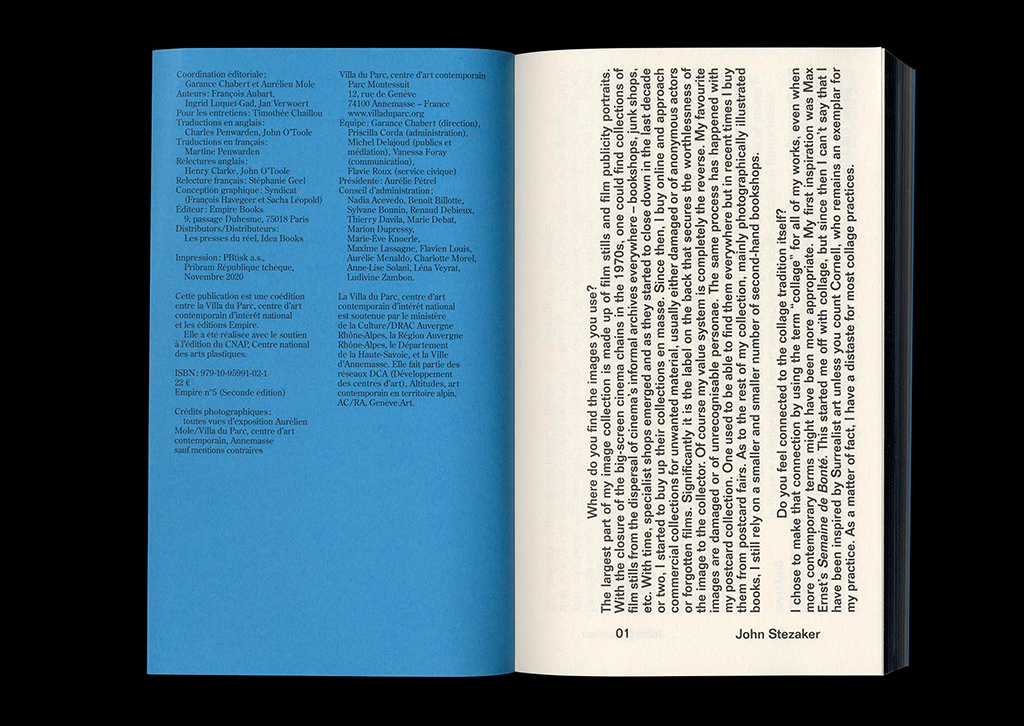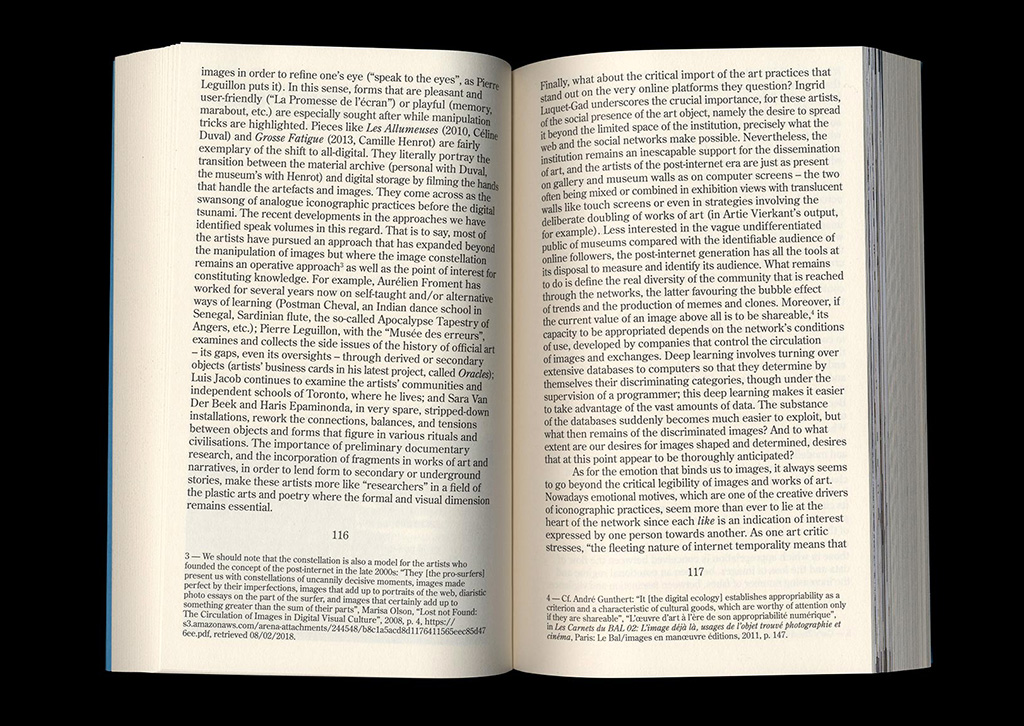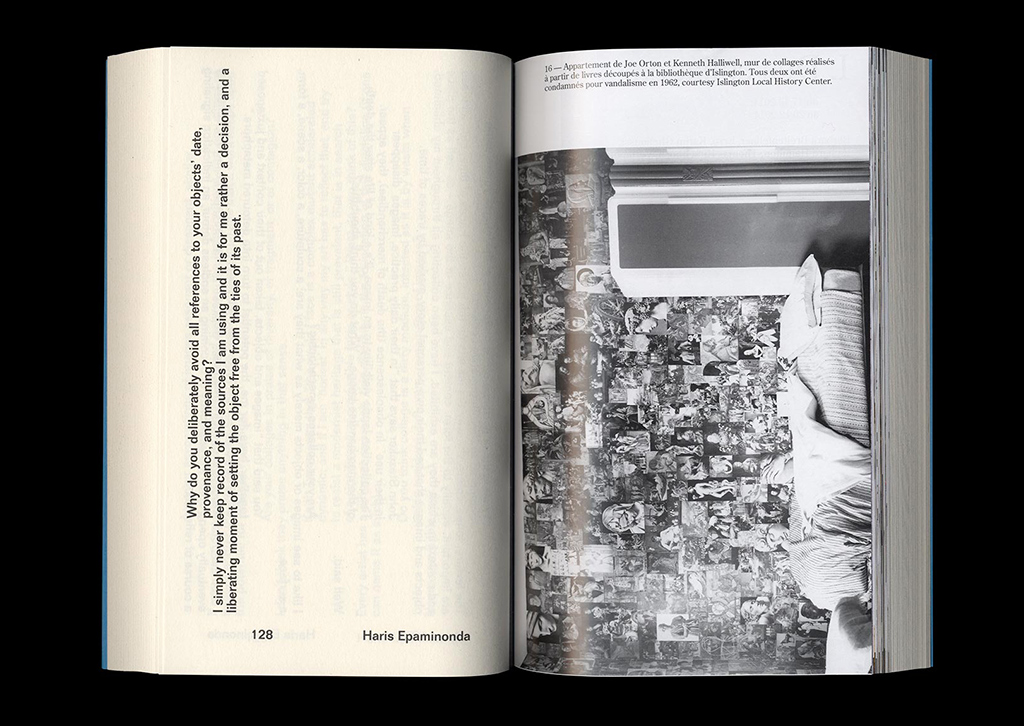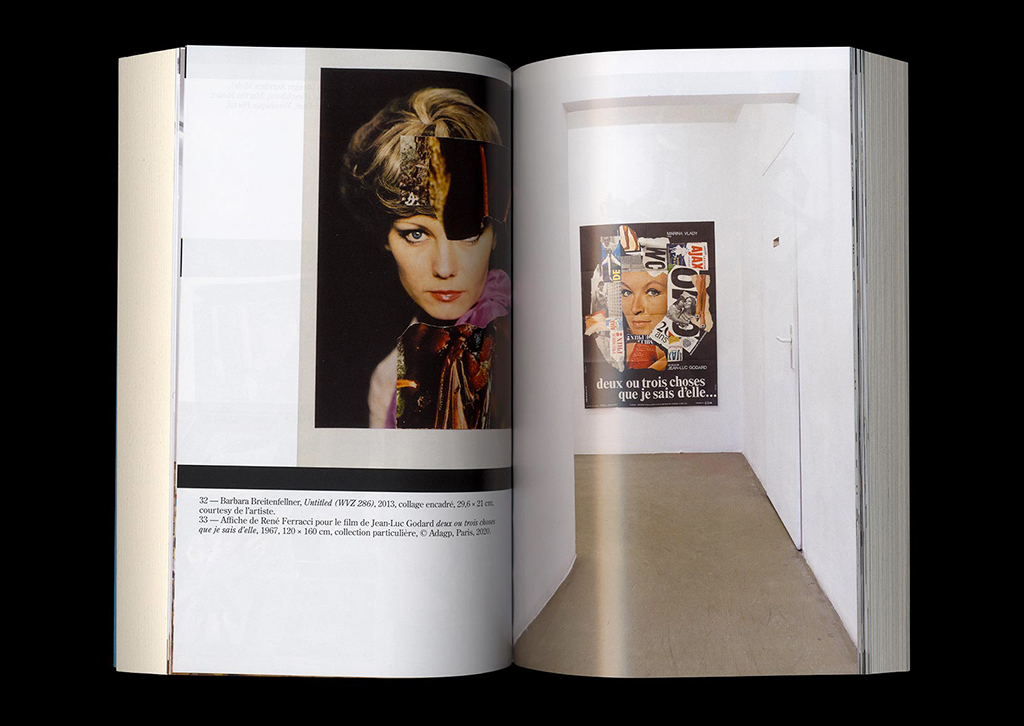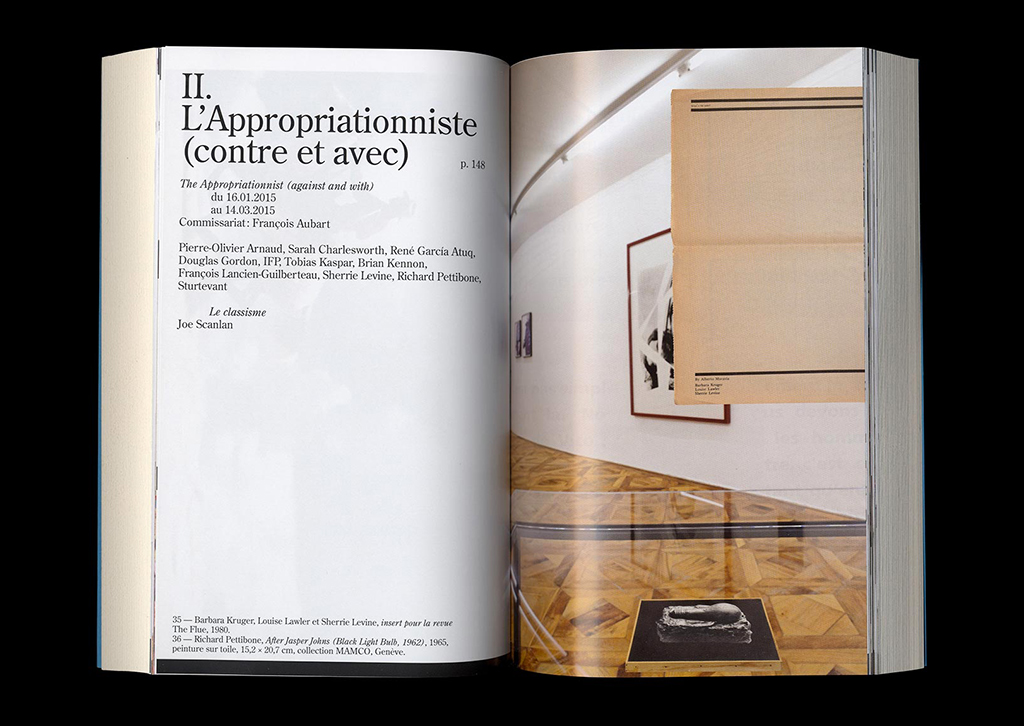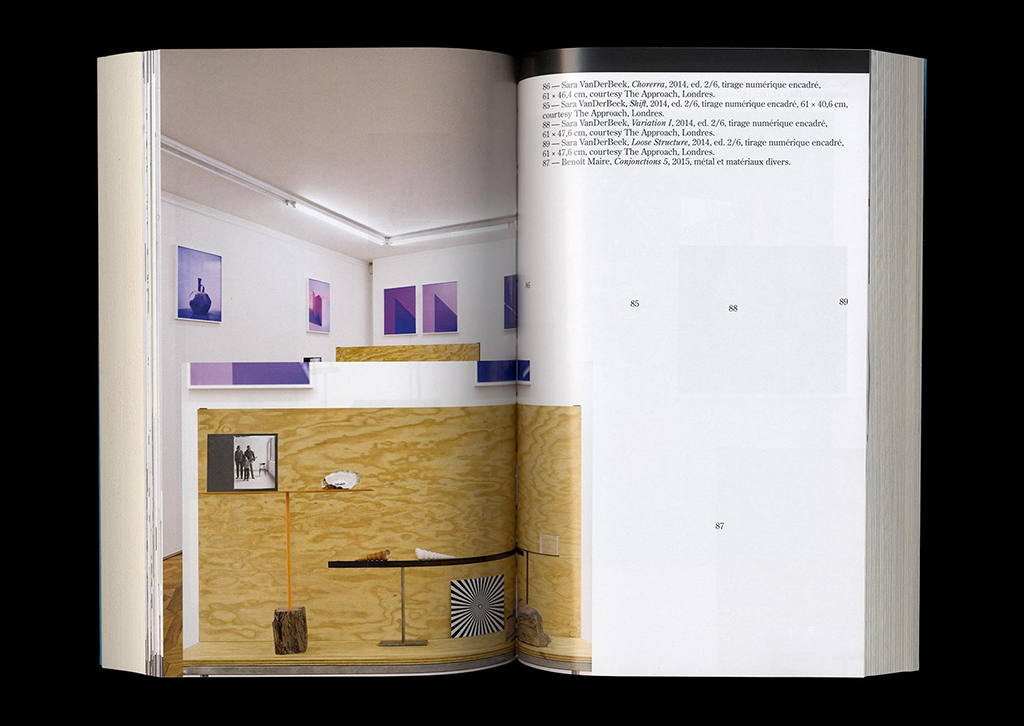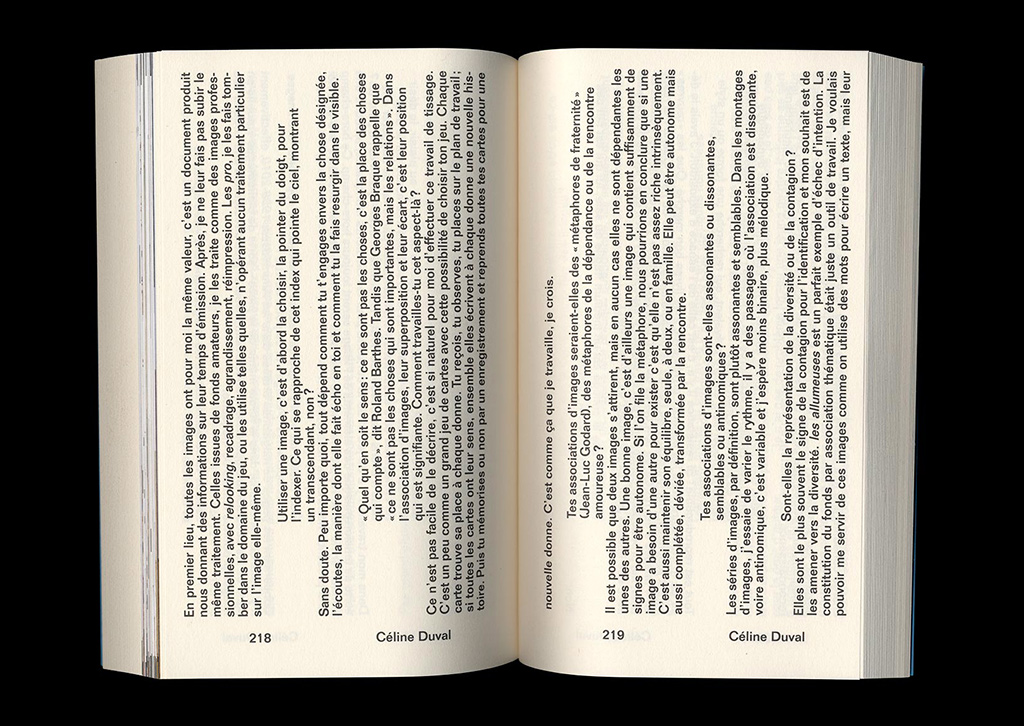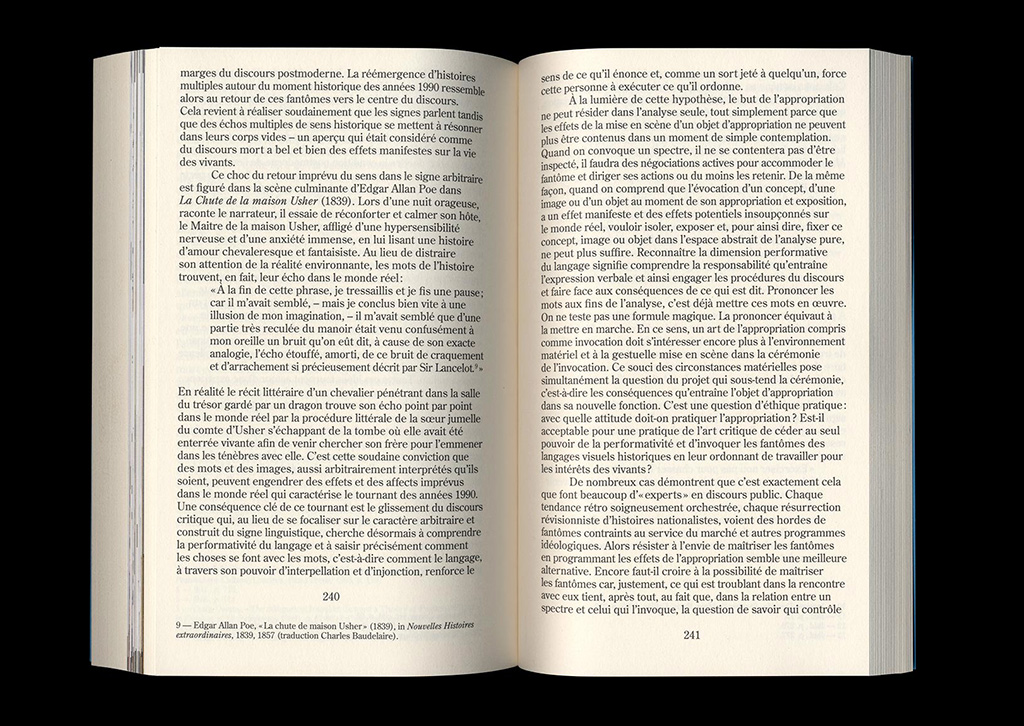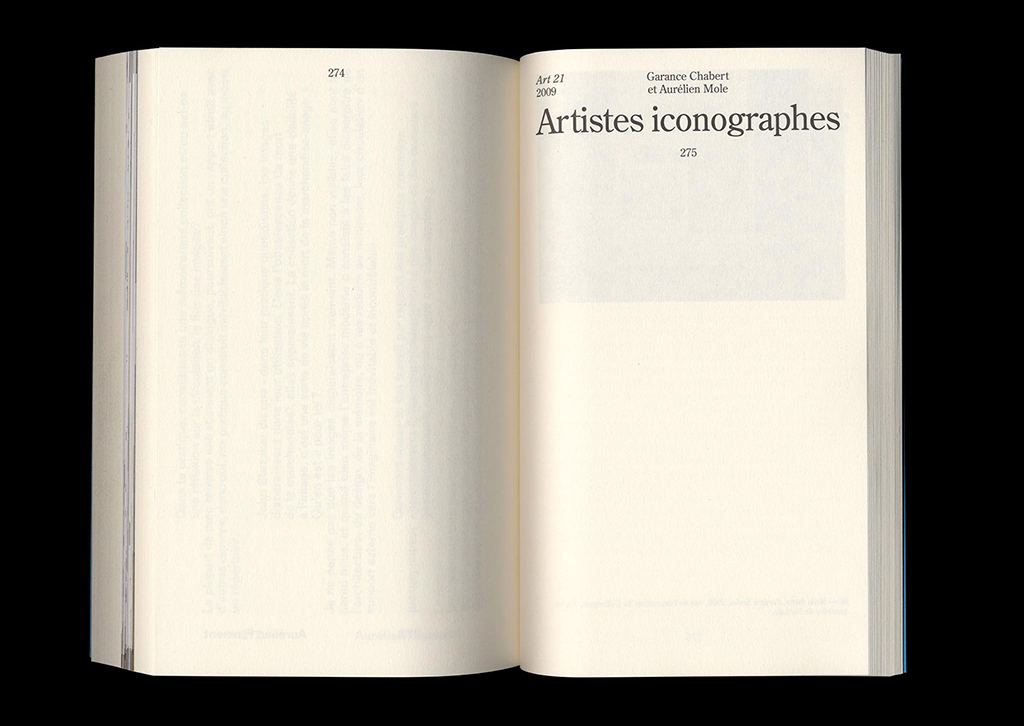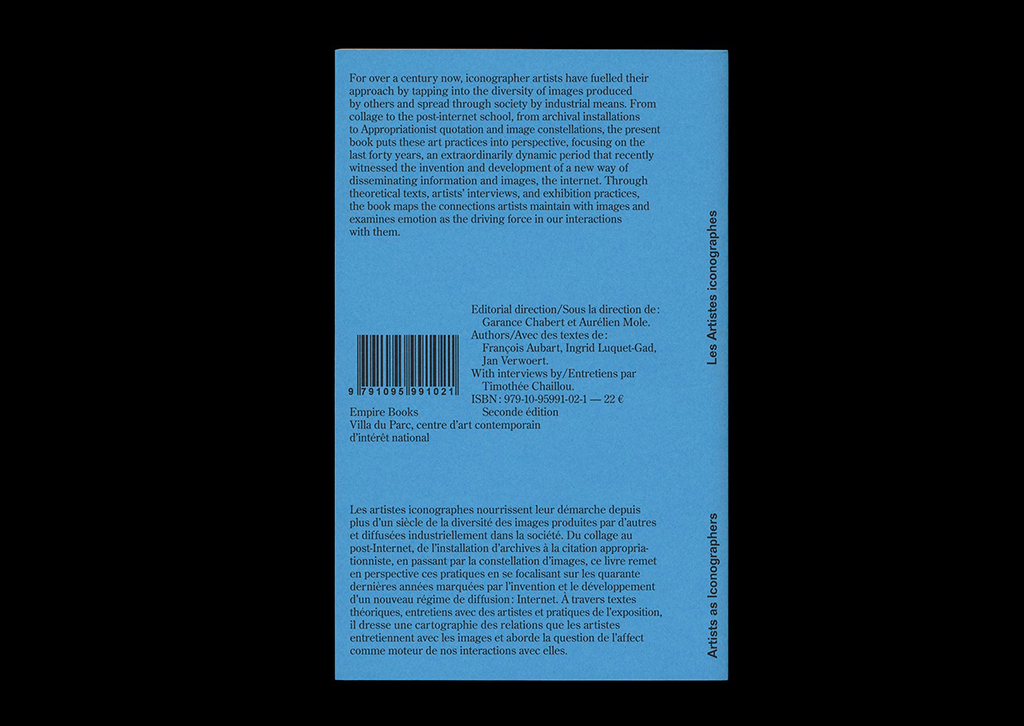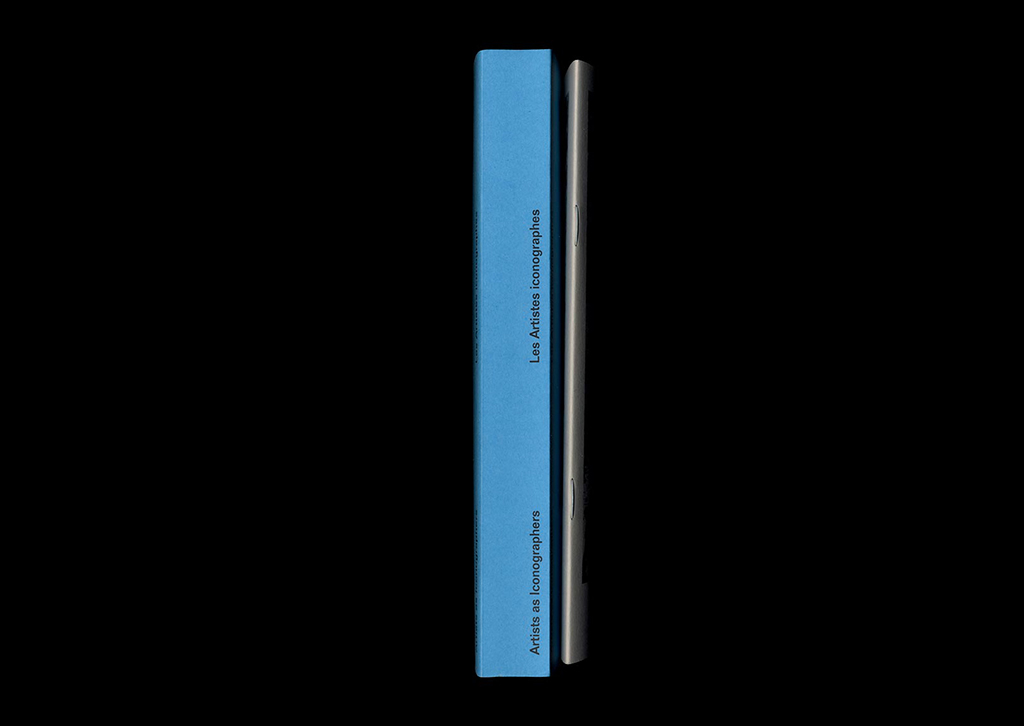 For over a century now, iconographer artists have fuelled their approach by tapping into the diversity of images produced by othersand spread through society by industrial means. From collage to the post-internet school, from archival installations to Appropriationist quotation and image constellations, the present book puts these art practices into perspective, focusing on the last forty years, an extraordinarily dynamic period that recently witnessed the invention and development of a new way of disseminating information and images, the internet. Through theoretical texts, artists' interviews, and exhibition practices, the book maps the connections artists maintain with images and examines emotion as the driving force in our interactions with them.
Editors: Garance Chabert & Aurélien Mole
Texts: François Aubart, Garance Chabert & Aurélien Mole, Ingrid Luquet-Gad, Jan Verwoert.
Interviews: Pierre-Olivier Arnaud, Barbara Breitenfellner, Céline Duval, Haris Epaminonda, Aurélien Froment, Wade Guyton, Camille Henrot, Thomas Hirschhorn, Pierre Leguillon, Jonathan Monk, Clément Rodzielski, Linder Sterling, John Stezaker, Oriol Vilanova, by Timothée Chaillou.
32 pages leaflet, Turmoil, Batia Suter, 2020, layered reproductions excerpt from a series in progress, various size. Courtesy of Batia Suter.
Co-Creation, English Version, Céline Poulin & Marie Preston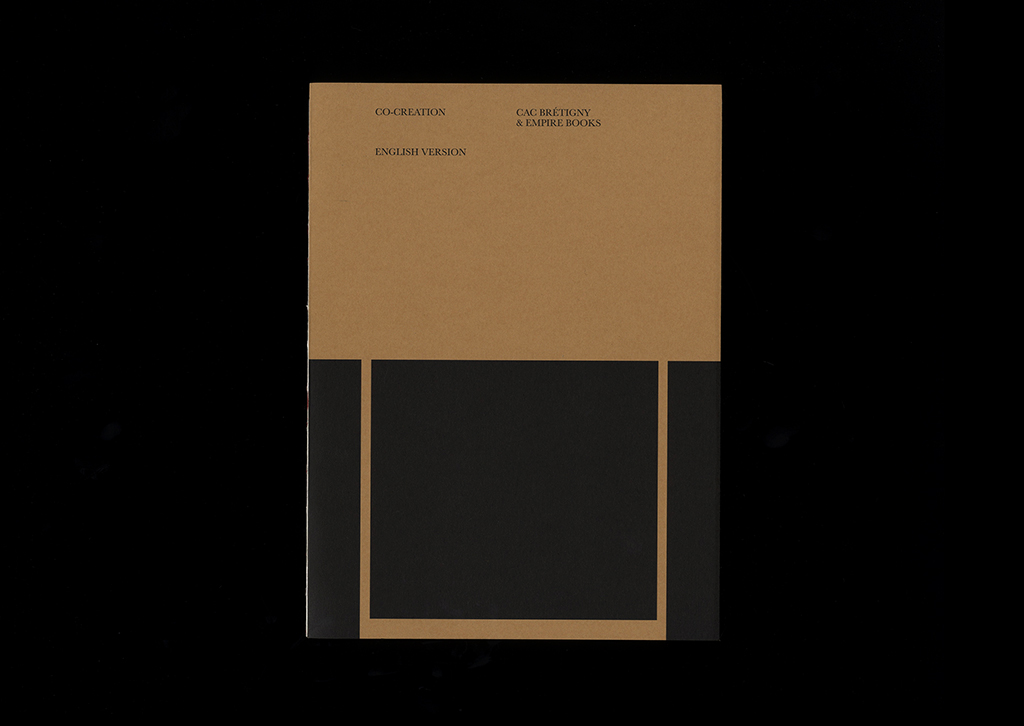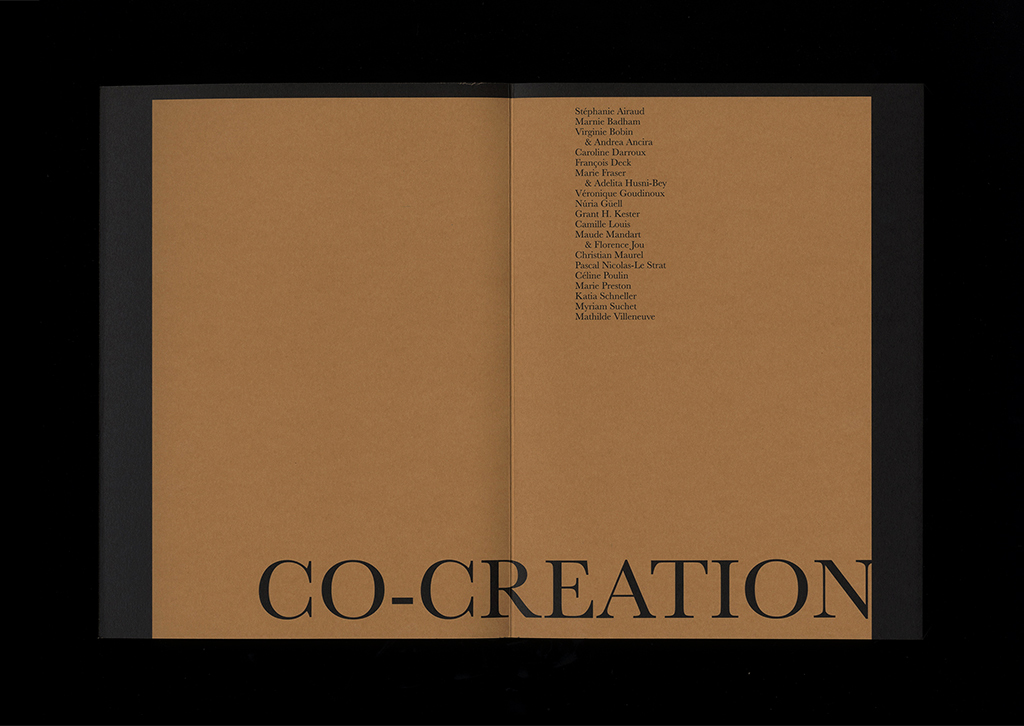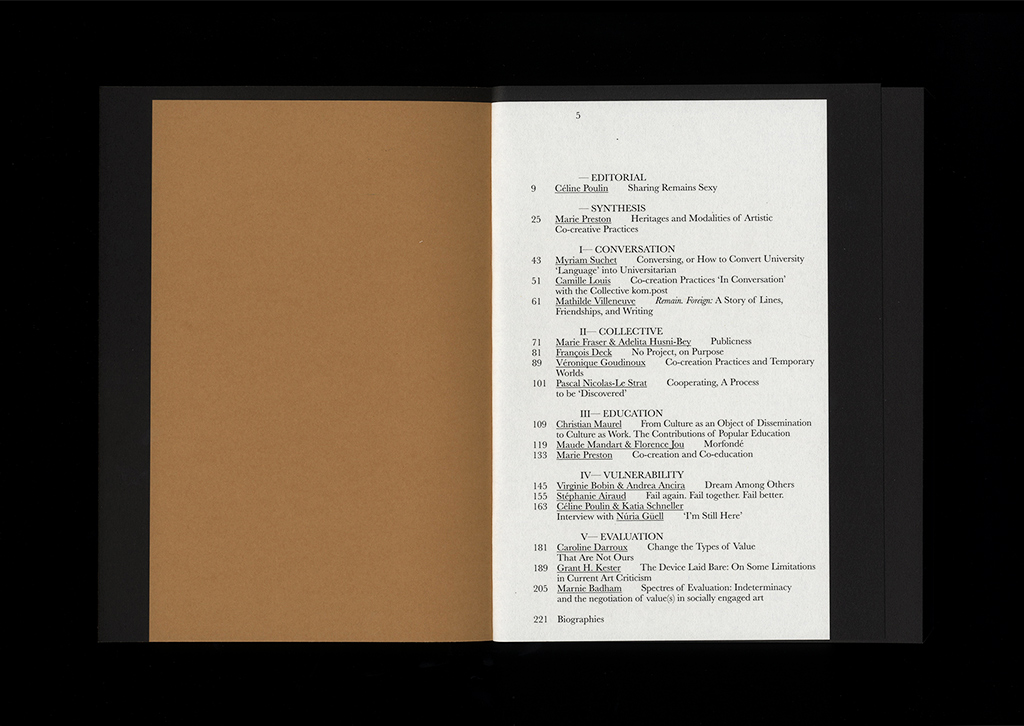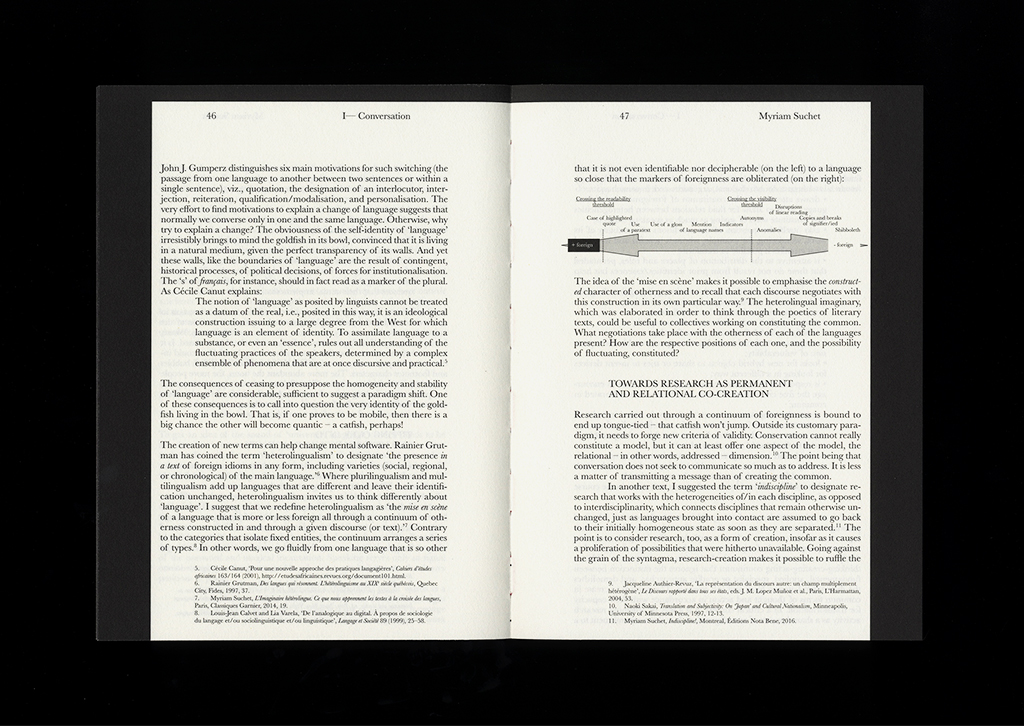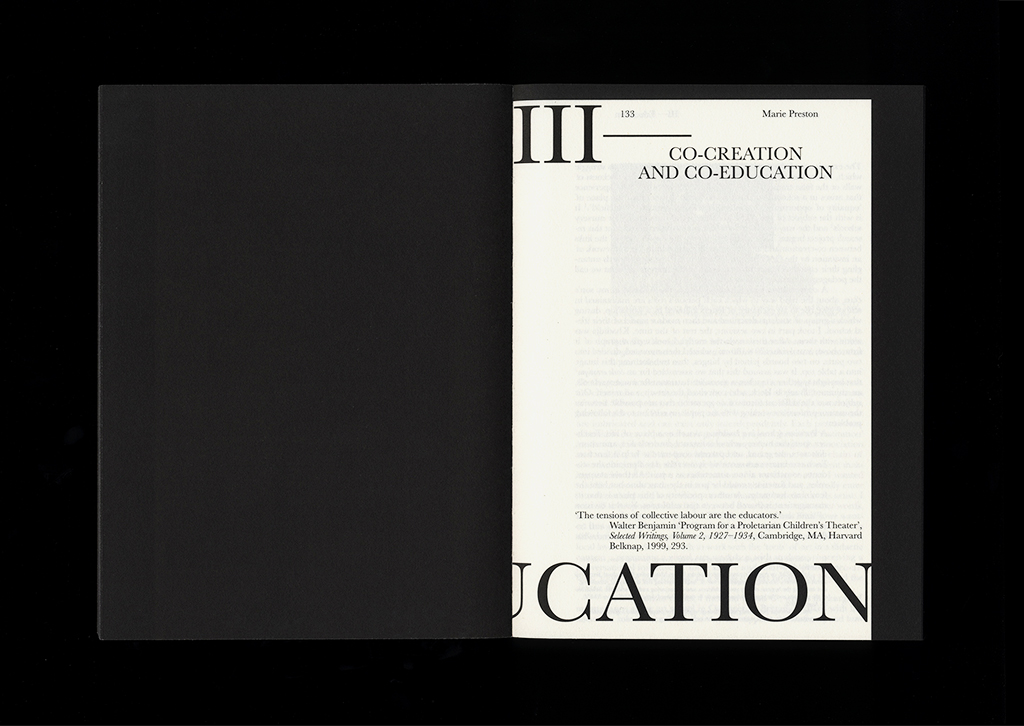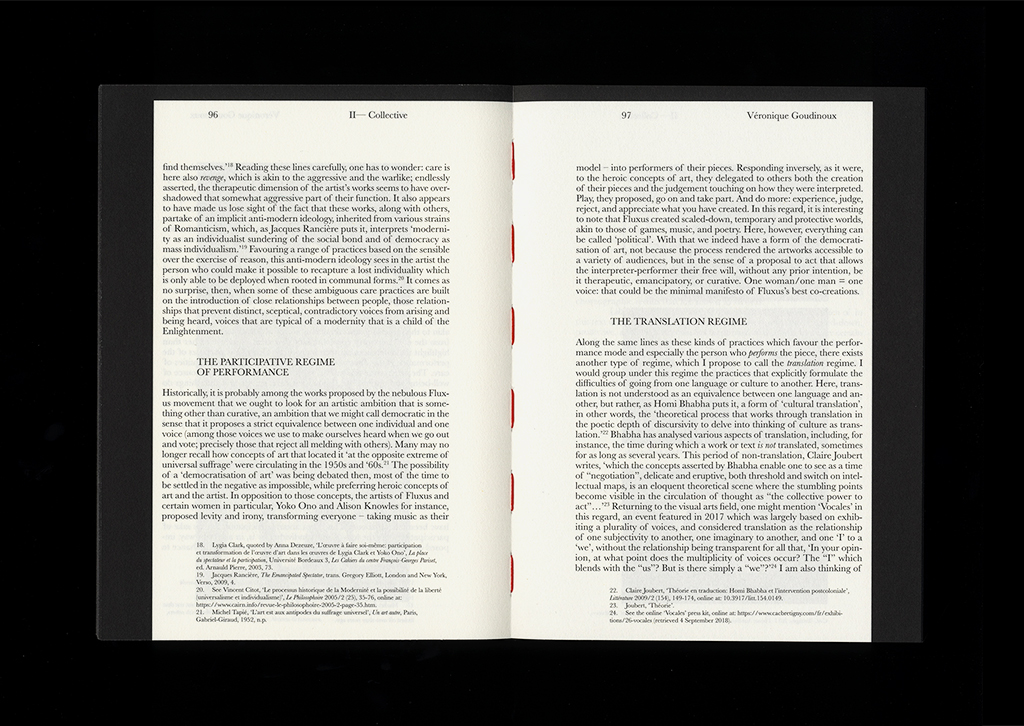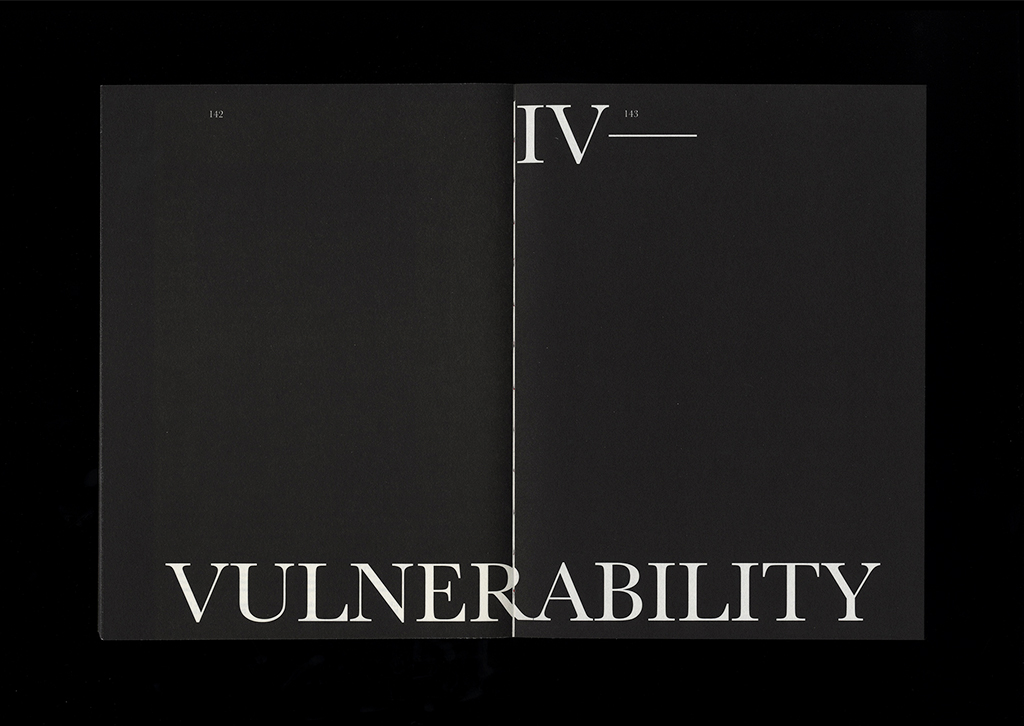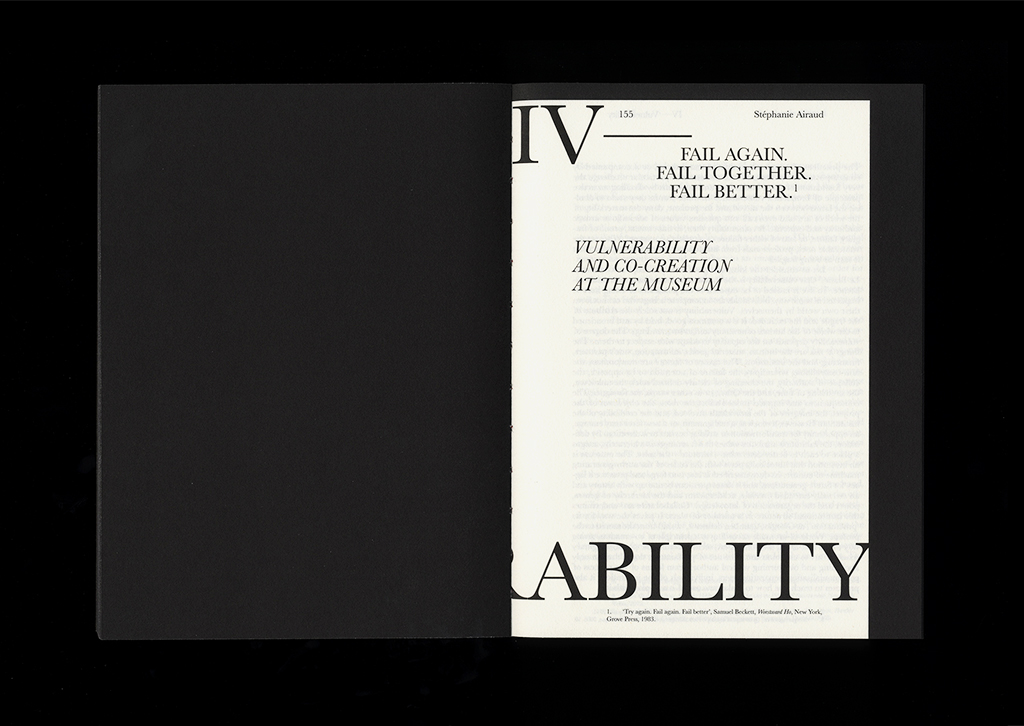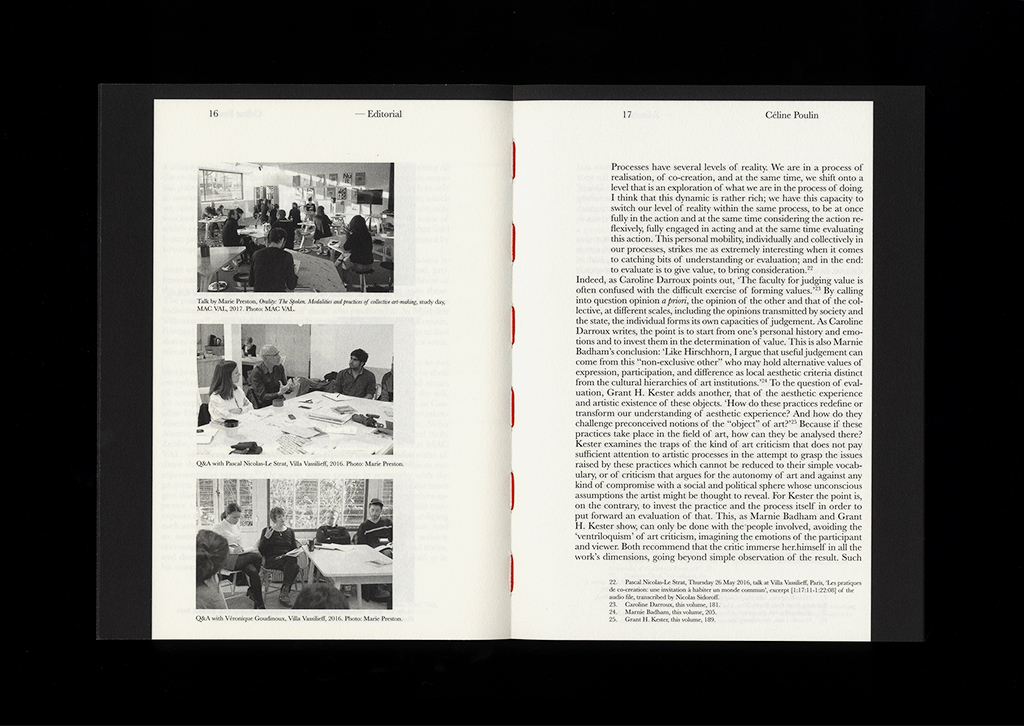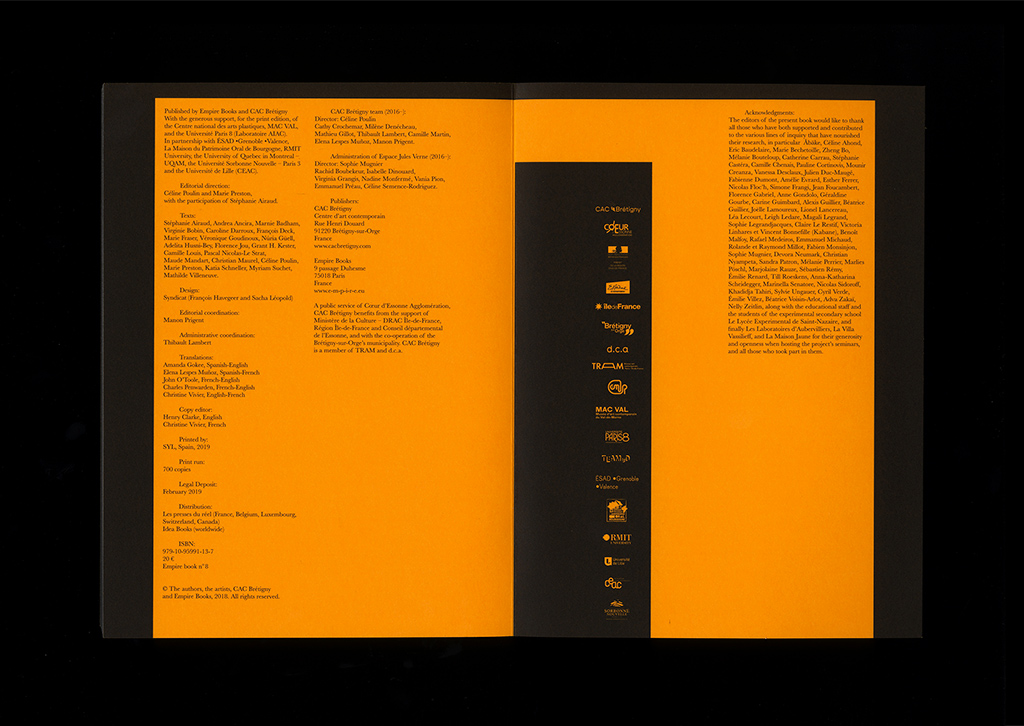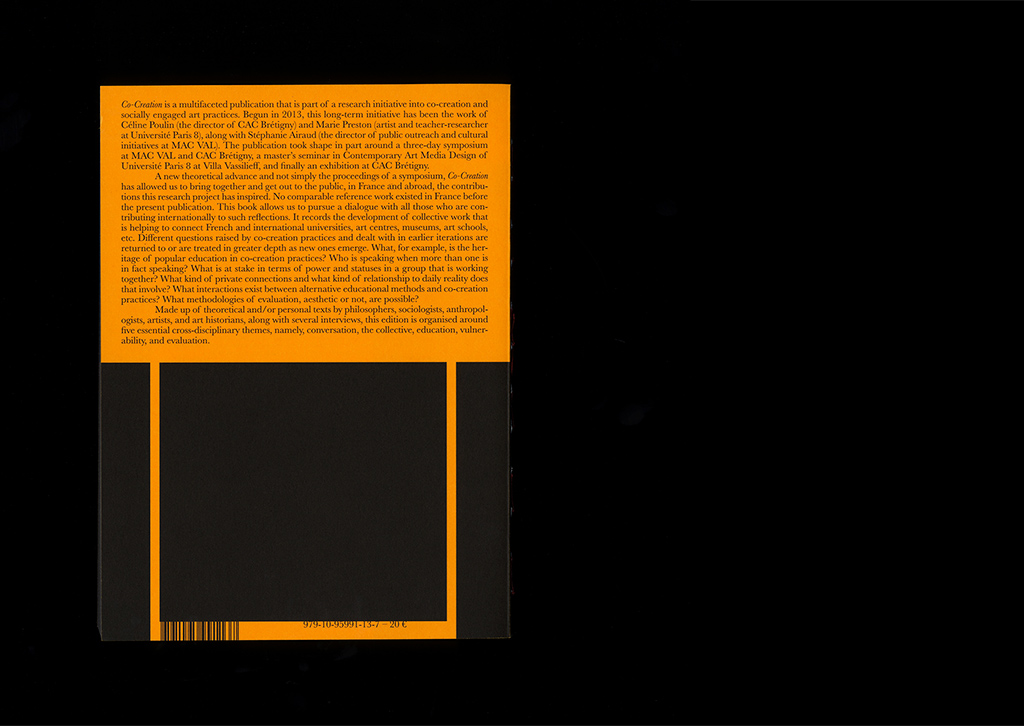 éditions Empire & CAC Brétigny
ISBN: 979-10-95991-13-7
English version
232 pages
155 × 210 mm
soft cover
Design: Syndicat
20 €
2019
éditions Empire & CAC Brétigny
ISBN: 979-10-95991-13-7
English version
232 pages
155 × 210 mm
soft cover
Design: Syndicat
20 €
2019
Co-Creation is a multifaceted publication that is part of a research initiative into co-creation and socially engaged art practices. Begun in 2013, this long-term initiative has been the work of Céline Poulin (the director of CAC Brétigny) and Marie Preston (artist and teacher-researcher at Université Paris 8), along with Stéphanie Airaud (the director of public outreach and cultural initiatives at MAC VAL). The publication took shape in part around a three-day symposium at MAC VAL and CAC Brétigny, a master's seminar in Contemporary Art Media Design of Université Paris 8 at Villa Vassilieff, and finally an exhibition at CAC Brétigny.
A new theoretical advance and not simply the proceedings of a symposium, Co-Creation has allowed us to bring together and get out to the public, in France and abroad, the contributions this research project has inspired. No comparable reference work existed in France before the present publication. This book allows us to pursue a dialogue with all those who are contributing internationally to such reflections. It records the development of collective work that is helping to connect French and international universities, art centres, museums, art schools, etc. Different questions raised by co-creation practices and dealt with in earlier iterations are returned to or are treated in greater depth as new ones emerge. What, for example, is the heritage of popular education in co-creation practices? Who is speaking when more than one is in fact speaking? What is at stake in terms of power and statuses in a group that is working together? What kind of private connections and what kind of relationship to daily reality does that involve? What interactions exist between alternative educational methods and co-creation practices? What methodologies of evaluation, aesthetic or not, are possible?
Made up of theoretical and/or personal texts by philosophers, sociologists, anthropologists, artists, and art historians, along with several interviews, this edition is organised around five essential cross-disciplinary themes, namely, conversation, the collective, education, vulnerability, and evaluation.
Editors: Céline Poulin & Marie Preston with the participation of Stéphanie Airaud
Texts: Stéphanie Airaud, Andrea Ancira, Marnie Badham, Virginie Bobin, Caroline Darroux, François Deck, Marie Fraser, Véronique Goudinoux, Núria Güell, Adelita Husni-Bey, Florence Jou, Grant H. Kester, Camille Louis, Pascal Nicolas-Le Strat, Maude Mandart, Christian Maurel, Céline Poulin, Marie Preston, Katia Schneller, Myriam Suchet, Mathilde Villeneuve.